Stephanie Bartlett, Retail Operations Administration Manager of Watches of Switzerland, a British Swiss watch FTSE 250 global retailer, tasked LapCabby, a leading storage and charging solutions manufacturer, with solving their extensive tablet security, storage and charging issues.
Watches of Switzerland employees and clients alike use in-house 10″ tablets across their stores to browse their online catalogue. They significantly increased the number of their tablets to over 2k to meet rising demands and required a reputable and cost-effective one-stop charging, secure storage solution.
LapCabby worked closely with the Watches of Switzerland Procurement Team to understand their portable storage and charging requirements and identified the Lyte 10 Single Door Mini as it offered: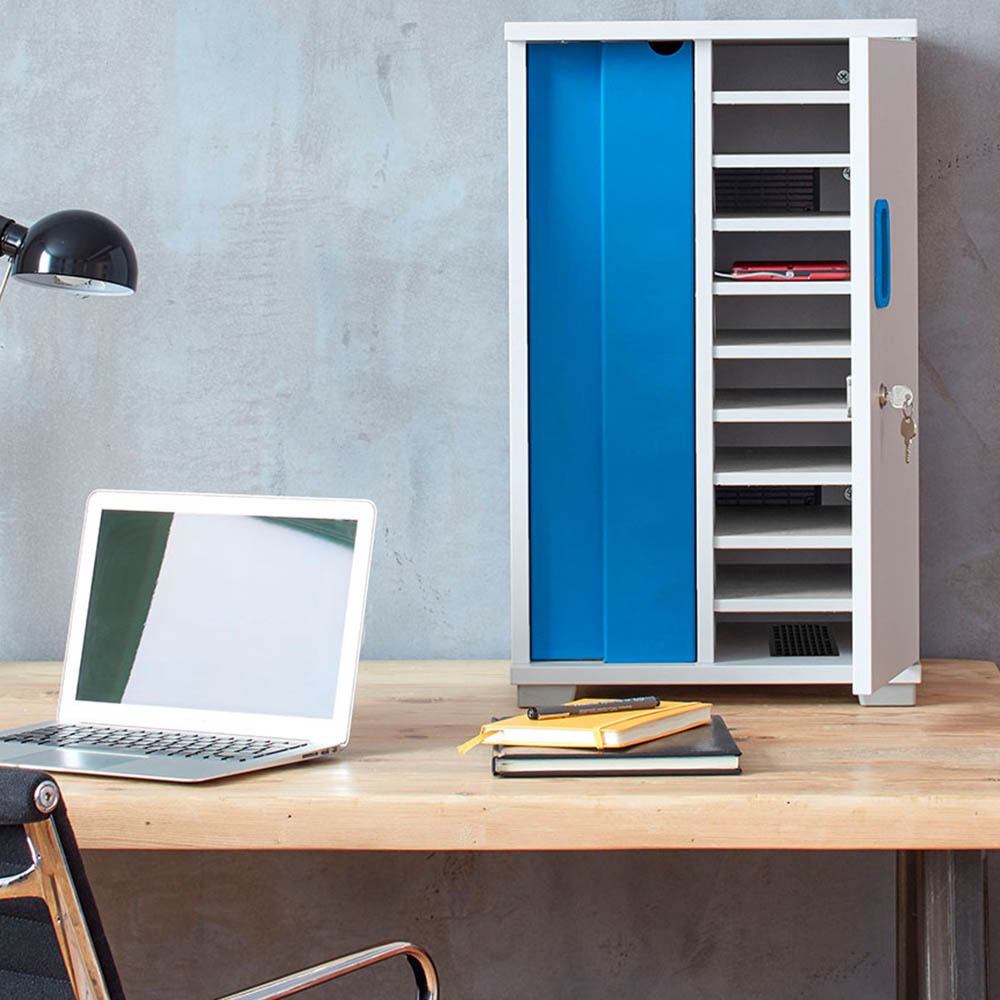 Housing for up to 10 x 10″ devices
A fast-charging solution
Individual horizontal device compartments for compact storage
A unique ventilation system that is silent
Maximum security and safety with a locking system that includes a six-plate lever activation system and a separate lockable power compartment
High-density materials, components and construction processes built to withstand the busiest environments
A lifetime warranty (5 years electrical)
Watches of Switzerland placed an order for 190 units, and LapCabby managed the order from their Nottingham factory. Once again, LapCabby ensured its usual high standards, stringent quality checks and delivered on time.
To know more about our Lyte 10 Single Door Mini solution please click here.
"The whole process was fantastic, and the support was amazing! Everyone involved did a great job and were always available to help."
LapCabby is a leading storage and charging solutions manufacturer delivering a range of mobile, portable and static charging, security and storage solutions. From laptops, Chromebooks and tablets to mobile phones, they offer a catalogue of device storage products to clients across the UK and globally. LapCabby serves a diverse range of clients from sectors including education, healthcare, government, enterprise, charity, retail, and the arts. Other satisfied clients include Nike, MTV, the BBC, Mercedes Benz and Toyota, Decathlon Group, Russell Group Universities, Manchester City FC & Leicester City FC, the NHS, HM Prison Service, LA Public Library, and the Department of Sanitation.
About Watches of Switzerland
Watches of Switzerland is a British retailer of Swiss watches, with stores across the UK and at major UK airports. In 2018, they opened two international stores in the US and recently established a presence in the Midwest. Being a globally recognised modern, leading retailer, they stock only the most prestigious luxury watch brands. These include Rolex, Patek Philippe, Audemars Piguet, Cartier, OMEGA, TAG Heuer, Breitling, Tudor, Blancpain, Vacheron Constantin, Panerai, IWC, Jaeger-LeCoultre, Piaget, Hublot, Zenith, Breguet, Bovet and Grand Seiko.