LapBank Laptop Charging Cabinet – Loxit
"Offering the very highest levels of security, the Lapbank premium quality Lapbank Laptop Charging Cabinets are packed full of innovative features designed to keep your laptops and notebooks up to 15.6″ secure and charged ready for use"
The Lapbank Laptop Charging Cabinet is constructed to deliver high levels of security, the Lapbank range is designed to last. It's been constructed from all welded heavy guage steel and has a generous shelf height allows easy access to devices.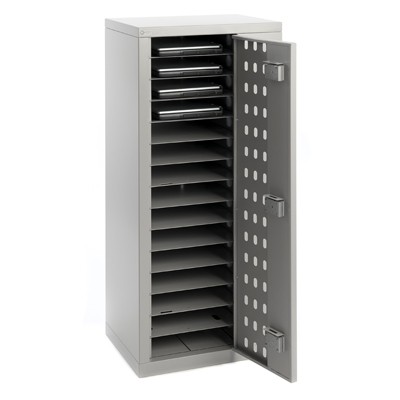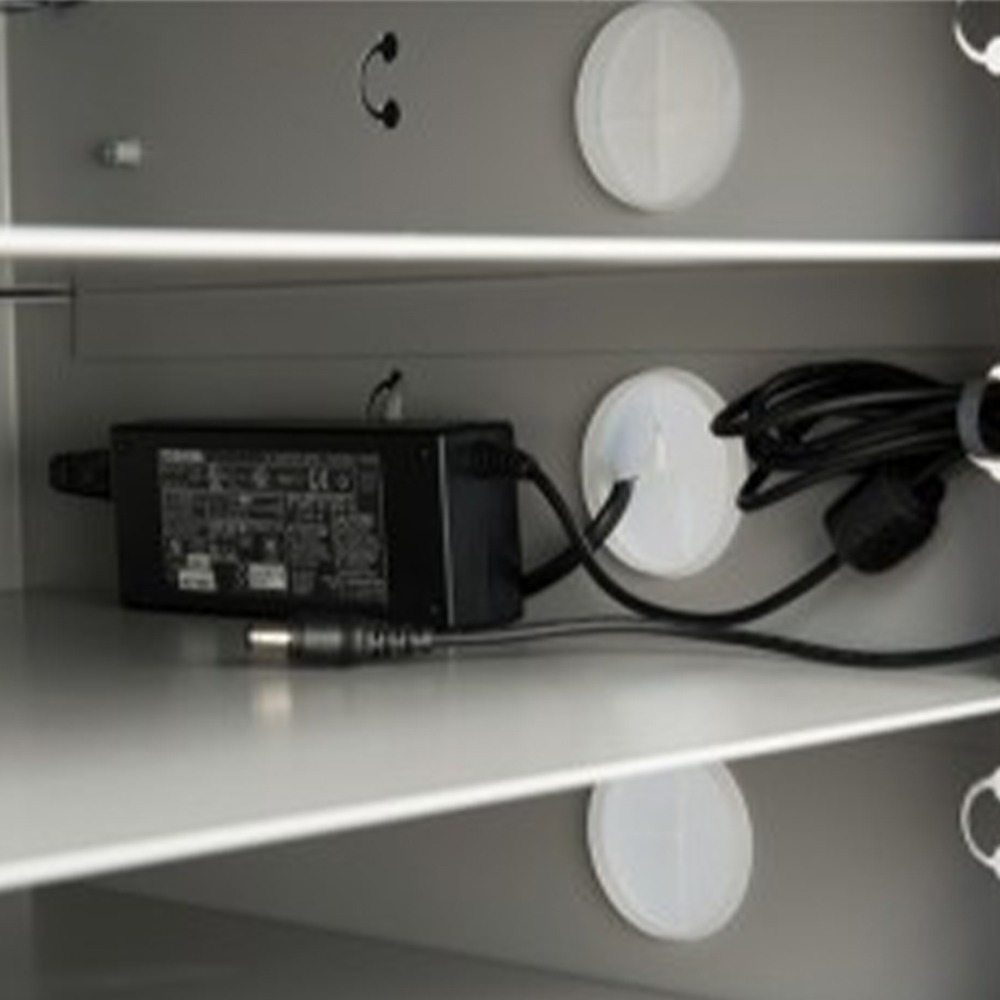 The steel doors feature Loxit's 'Twin skin' and 7 lever high security safe locks with 'anti-jemmy' manufacturing to protect laptop charging compartments. High levels of natural ventilation, meaning no energy hungry fans need to be used. Capable of storing and charging 15 x laptops or notebooks with screens up to 15.6″ inches diagonal, the Lapbank laptop charging cabinet's compact design reduces footprint and keeps bulk to a minimum.
Maximum laptop size 85h x 430w x 370d with 60mm depth allowance for transformer.
The 90mm high shelf sizes are designed for easy access and provide a future proof design allowing ample space for a wide range of devices. The soft start protects against RCD trips when charging laptops with empty batteries, i.e. at the start of a new term in a school. Optional Intelligent Charge module with charge status indicator available.
The LapCabby Lyte 16 Single Door
Our alternative charging solution that's specifically geared for multiple device charging is LapCabby's Lyte 16 Single Door. Absolutely no adjustment or setup is required, the shelves are built specifically to accommodate a variety of shapes and sizes which saves time and ensures flexibility for possible future device upgrades.
The Lye 16 Single Door is one of many cabinets in the Lyte range, the Lyte range has many different size and feature options to suit a variety of charging needs. The Lyte 16 Single Door is geared to charge and store from 16, up to 15.6" in screen size, in one, compact and silent cabinet. The generous horizontal shelves mean that the Lyte can store devices with or without protective cases.
The Lyte, while designed to fit in with other functional furniture in a professional environment, is reinforced and built to protect your device investment securely, this unit comes specially designed with high density materials, components and construction processes to withstand high impact usage from the busiest environments such as education, healthcare, retail, industrial and commercial.
Device adaptors plug into 2 x 8-way power strips designed and manufactured in-house, so sockets accommodate larger adaptors and plugs without blocking adjacent outlets. The IEC socket on the back of the unit comes with a 1.8m / 6ft power cord designed to snap out if pulled away from the wall to prevent damage.
Soft-start power management system incorporates in-rush surge protection, sequential start-up and residual current protection. Simultaneous charging of all 16 devices to ensure devices are fully charged as fast as possible saving the user time and giving peace of mind. Individual pockets for AC adaptors to secure cables in place, organised and free from damage with ventilation to prevent overheating.
Cable clip portholes located in the side of each device storage shelf to ensure cable is locked into position and free from damage while feeding cables from side power compartment to front device compartment, preventing cables being removed from unit and therefore not able to be lost or damaged.
Top surface overhangs at the rear to allow the top surface to sit flush against the wall but still allowing fresh air to circulate through the back of the unit. Weight bearing L-shaped feet are fitted to the base of the unit to ensure air circulation and easy cleaning. Tested to comply with Healthcare Infection Control Procedures to ensure unit can be cleaned thoroughly, according to healthcare guidelines, preventing the spread of infection.
Isolated power compartment is secured with a 16-gauge steel cover panel, fixed with security screws, to conceal the electrical components and to prevent loss or damage of cables. Silent ventilation system includes side and rear vents to keep devices cool with constant air circulation without the need for a noisy fan that can also spread germs. Key locking system, tested by an independent locksmith, includes 6 plate lever activation system and double-sided key with two sets of teeth, making the lock more durable, impossible to pick and substantially increasing security while inset door handles prevent protruding parts eliminating breakages.
Instruction Booklet supplied with technical support via phone, email or 24/7 live chat on hand.
The LapCabby Lyte 16 Single Door, like all LapCabby products, come with lifetime warranty to ensure full customer satisfaction, electric components are also covered for a full 5 years. LapCabby are also known for exceptional customer service and with over 30 years experience and a 24/7 customer support system in place.